How to access campus and department computing and services
UC Davis Computing Account
One of the first things that incoming students need is a UC Davis computing account.  Instructions on how to obtain a UC Davis Login and Passphrase can be found through Information & Educational Technology.  This will allow you to login to the UC Davis network and set up your UC Davis Mail account.  It also allows you access to the UC Davis Library Virtual Private Network (VPN).
UC Davis AggieCard
All students should obtain a UC Davis AggieCard, which serves as your identification card and grants you access to UC Davis Libraries, the Student Health Center, and other campus services.  For library access, you must first activate your card by going to the Shields Library and filling out the library card application form or by applying online. You can borrow from any library on campus, within the entire UC system, and beyond..
VEN Computing Room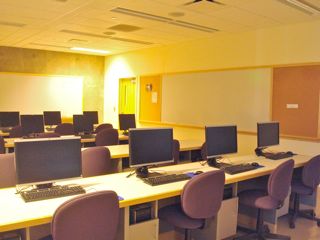 To use the Viticulture & Enology computer lab or other computers in the department, you must first have a UC Davis email account.  Once that is established, you will need to set up a V&E Departmental account, which will be different from your UC Davis account. Students using the departmental computer lab should be familiar with the Computing Lab Rules.
You will need to complete the application online and take a printed copy to 1122 RMI-North along with your student ID and selected password.  Once you have had a short orientation on using the software in the computer lab, an account will be created for you, usually within 7 days.  You will be notified by email when the account is ready and can then start using the Computer Lab, which is located in 1128 RMI-North.
Personal Computing
The UC Davis Wireless Network is accessible throughout the entire campus.  Students are not allowed to plug into the Department Local Area Network (LAN) without approval from BFTV Tech Support.
It is very important that you have an Anti-Virus program installed and you keep the definitions current. The university has an agreement with Sophos Antivirus, which allows students to obtain a free download of Sophos antivirus. The antivirus client is available from MyUCDavis, located in the UCD Resources – Software subsection.  Sophos Antivirus is available for Windows, Mac OS, Linux, BSD, Palm and Mobile devices.
VEN Listservs
As a student you will be automatically subscribed to relevant listservs. You may also wish to subscribe to other lists.
VENMASTERS:Viticulture & Enology Masters Program.  Subscribers to this list automatically receive VENGRAD messages.
VENGRAD:  This list serve is directed specifically for graduate student information and announcements.
VENDEVO: This list if specifically designed to keep students informed of DEVO (Department of Viticulture & Enology Organization) meetings, fundraisers, field trips, social events, housing and classifieds.
VENCOMPLAB: This list is for keeping computer lab users informed about changes to lab policies, schedule changes and other lab issues. You are automatically subscribed to this list when you get your V&E computing account.
VENINFO: This list goes out to all students via the vengrad and venferm lists, and others who are interested in Viticulture and Enology announcements.  Any messages that posted here will go to over 200 subscribers, so please limit communications on this list to issues that are pertinent for all of these groups.  Some typical messages include notices of upcoming events.
VENFERM: This list goes out to all Viticulture & Enology undergraduate students  and advisors.  All students in the major are automatically added to this list.  Pertinent topics include undergraduate services/activities in the department or University, advising issues, course information, etc.  Subscribers to this list also receive all VENINFO messages.
All campus mailing lists are managed by Sympa.  To subscribe/unsubscribe to a Listserv, please consult the IET Mailing List User Guide.